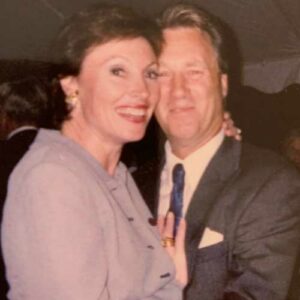 It is with great sadness we announce the death of CDF Founder Matthew (Andy) Baxter.
The Cunniff Dixon Foundation sorely misses our visionary and leader who transitioned quietly, surrounded by family, and in peace on February 21, 2022.
A compassionate champion of quality end-of-life care, Andy was also our dear friend and mentor. It is a privilege to carry his vision forward and continue to make a difference in the world of Palliative Care, "good doctoring" and "good nursing".
Please read these heartfelt words from Andy's dear friend and Physician, Peter Dixon, who cared so beautifully for Andy when it mattered most. Dr. Dixon truly practices the art of medicine through deeply compassionate care and continues to be the inspiration for CDF and our work going forward.
______________________
2/22/22
CDF Memorial to Andy Baxter
From its inception years ago, The Cunniff-Dixon Foundation has focused on end-of-life care. Initially, we had instructive conferences. Following those, we recognized and honored physicians who embodied in their daily work, expertise and dedication to the principals of exemplary end-of-life care. More recently, the Foundation has expanded its direction to Planning My Way, helping people think about what sort of care they would want when their health fails.
It should not come as a surprise that the Founder of CDF, Matthew "Andy" Baxter, has lived those principals to the maximum possible.
CDF regrets to inform you that Andy died at home in Lyme, CT on February 21, 2022. He was with his family. He had developed metastatic bladder cancer eight months earlier. When he recognized standard therapy had minimal impact and significant toxicity, he declined it. He also decided against pursuing experimental treatment for its limited efficacy as well.
He insisted on living with the CDF principals of quality of life to the end. His letter to his family, written years earlier, helped them understand and accept his wishes. He defended his decision to all who challenged him. With as large a personality as he had, there were many who wanted him to try treatment. Who didn't want him to live longer to enable them continue their relationships with him? He did not waver.
As his physician, I was privileged to help him see his options each step of the way. I understood his choice was right for him and consistent with his longstanding wishes. I defended him in that decision. He had quality time to enjoy the things he loved at home and to receive visitors important to him. Those of us fortunate to have spent time with him over the past months were truly blessed.
Reflecting backward is natural but I know Andy would have us look forward to ensure we are living our lives to the fullest and valuing the people around us.
CDF will continue its work and is indeed evaluating nominations for physician and now nursing awards at the national level at this time. We are also ensuring Planning My Way continues to grow in new communities where it is needed.
I hope you will join me in saying your kind of prayer for a great spirit who unswervingly helped many in a field not his own and ultimately brought all of us together.
Peter S. Dixon, MD.